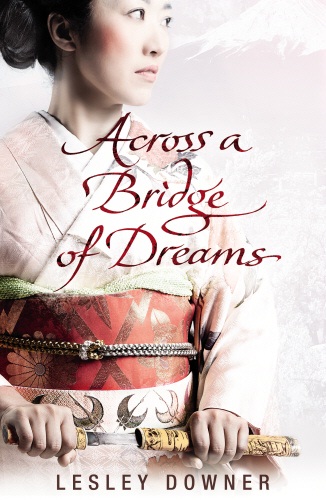 So I love Asianvision movies like "Crouching Tiger, Hidden Dragon", "Hero" and "The House of Flying Daggers", but I have to admit that I haven't read a lot of books about Samurai, with the exception of the brilliant
Shogun
by James Clavell. When I saw the cover of
Across a Bridge of Dreams
I knew I had to read it. It turned out to be an impossible love story, a Japanese version of "Romeo and Juliet". I loved it!
Taka is the daughter of the geisha Fujino and the greatest Satsuma samurai of all, Kitaoka. Japan is in turmoil after a period of war between north and south. Nobu is a northerner whose family was greatly affected by the war, and despite being samurai, he has to make a living by working as a servant. Unforeseen events place Nobu in the Kitaoka household, but despite Nobu's hatred for the name that is responsible for all his misfortunes, he cannot help but be drawn to beautiful Taka. In secret, Taka helps Nobu with his reading and writing, and a bond quickly develops between them. Taka's suspicious brother Eijiro ensures that Nobu is kicked out of the house and Nobu starts training for the army.
Fujino starts making arrangements for Taka to be married. As a daughter of a great samurai, she can be married well, despite her geisha background. Taka dreads a future as a samurai wife, but she pretends to be excited about it. Meanwhile, trouble is stirring in the country. Western culture is putting a lot of pressure on the Japanese way of life, and a lot of changes are enforced by the new government. General Kitaoka has not been heard from for years, but there are rumours that he is behind an uprising in the south. Just as Nobu and Taka find each other again, war breaks out, Taka is forced to flee Tokyo, and Nobu has to go to war against her father.
Downer describes really well how the Japanese had to get used to Western clothes and food, and the challenges people faced in getting used to this. I also feel that I got a better understanding of Japanese culture at the end of the 1800s. Geishas and samurai occupied very different spheres of life, yet they often came together. The hate/love relationship people had to geishas is fascinating, and I truly felt for Taka when she had to go to school with "pure" samurai girls who turned their noses up at her.
I love how Downer weaves together Japanese histories and myths in her narrative, giving it a magical element. Nobu and Taka seem destined for each other, despite the odds. Yet I kept guessing to the last few pages. Downer builds the tension steadily, so that towards the end the story literally reaches a climax. All the events come together in a surprising and nerve-wrecking way.
Across a Bridge of Dreams
is both beautiful and tragic. The characters are facing the death of a way of life, but this death might bring new hope to our star-crossed lovers. Taka and Nobu grow from teenagers to proper heroes. I loved this story. I hope you'll love it too.