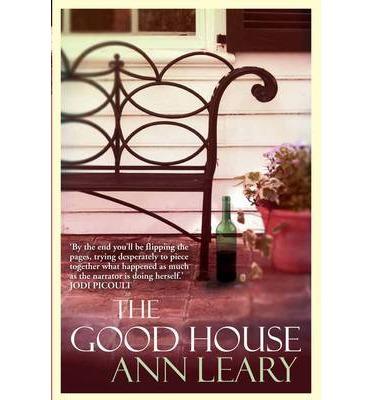 This is not the type of book I normally pick up. It looks too "woman's interest", and the endorsement by Jodi Piccoult didn't help either. However, there was something that drew me to it regardless of these obstacles. And I decided to give it a go. If I didn't like it after 10 pages, I could just abandon the effort and find another book to read. Well, those 10 first pages were literally devoured, and there was no way I was putting it down.
We enter the story two years after Hildy Good had to sit through the intervention staged by her two adult daughters claiming she's an alcoholic. After rehab, Hildy stayed off the booze for a while, until one night when she stumbled over some wine. Since then, Hildy's been drinking "two or three" glasses, or rather, finished the bottle, because wine doesn't taste as nice after being uncorked one night, in the evenings by herself. She has strict rules governing her drinking; she's not allowed to phone anyone or see anyone, or go anywhere, after drinking. And up until now, she's been following her rules.
Hildy lives in a smallish New England town, and her whole family has always lived there for generations. She claims to know everything that goes on in town, and the story starts when Hildy is becoming curious about one of the families that recently moved into a house she sold. It is clear that the wife, Rebecca, is not happy. Her husband spends the week in the city, and despite having two young sons, Rebecca seems restless. After her husband buys her a stunning new horse, Rebecca seems to bloom, and after seeing Peter, the therapist whose offices are above Hilyd's, Rebecca is hardly recognizable.
Rebecca doesn't seem to make friends with the other young mums in the area, and one night Hildy is sneaking wine from her garage, Rebecca drives past and stops upon seeing Hildy. Not knowing Hildy's rehab history, Rebecca joins Hildy for some wine, and a friendship starts to build between the two women.
A strong motif or doubleness in the story is that between female lunacy and reading/psychology. These two opposites become interchangeable at times in the story. Rebecca is depressed at the start of the story, then becomes happy, and then starts becoming very unstable (she might suffer from bipolar disorder). There's also a kind of magic attached to her. Her husband Brian claims that if Rebecca comes in touch with any kind of electric device such as clocks, remotes and so on, they just break. On the other hand, Rebecca performs a miracle when she first meets Hildy, where she saves the life of two horses. She will perform another "miracle" before the end of the story. On top of all this, Rebecca is very fascinated with the moon, which she loves painting. Historically, the moon is connected to "lunacy", madness, depression and bipolar disorder, which supposedly affected women more than men.
Hildy also have some strange traits. Her friends claims that she's a psychic, but Hildy herself admits it's nothing more than a scam. She "reads" people. Body language, eye movement, and so on. This allows her to deduce certain things about the people she meets. Despite how much she claims this is all a hoax, an art more than anything more supernatural, there is a moment in the book when she relies on her intuition, and makes conclusions beyond her "reading". Hildy's 8th great grandmother was accused of being a witch, whereas Hildy's own mother committed suicide when Hildy was only 11. Hildy's aunt, however, believed herself to be a clairvoyant, and made her living based on that.
The juxtaposition to these women is the psychologist Peter. Hildy's known him and his family since childhood and has nothing but respect for him. The feeling, however, is not mutual. Peter feels that Hildy's ability to "read" makes her a charlatan. This juxtaposition comes to a head when Hildy visits Peter in his office, sits in his chair while he sits in the patient's chair, and Hildy "reads" him, while challenging him that what he as a therapist is doing, is no more than a glorified "reading". At the end of the story, the doubleness between male "sense" and female "intuition" comes to a climax, and it seems that Peter is no better equipped to deal with his problems than the ladies are.
Hildy's alcoholism is a theme that runs throughout the story and challenges our perception of everything she tells us. Because Hildy is also the narrator of the story, we see everything through her eyes. She claims to handle everything well, to be a successful business woman, to have everything going for her, but as the story progresses, we see that this is not necessarily the case. There is a discrepancy between how Hildy sees herself and how the world sees her. Further, as the story progresses, Hildy's alcohol consumption is spinning gradually more and more out of control. It starts with her drinking with Rebecca, then moves on to her secretly spiking her own drink at a family dinner. Soon Hildy's experiencing blackouts, and it all comes to a head one morning when Hildy's lover Frank suggests that Hildy might be responsible for something terrible that might have happened the night before. Hungover with frayed nerves and a complete blackout, Hildy has no clue, and like her, we are dumbfounded that things could have come to this.
The Good House
is quite a good title now that I've read the book. Hildy's last name is Good, so it could literally refer to her house. It could also refer to the sense of House as in a family or line, and we've already learned some of the dark history connected to the women of the Good line. Hildy is also a real estate agent, so it also works in terms of her job, which makes up an important part of the story. The first sentence in the book says "I can walk through a house once and know more about its occupants than a psychiatrist could after a year of sessions". This refers also to Hildy's ability to read people, and ironically to her inability to see herself and the secrets she's denying. Finally, a house also refers to our minds, and the rooms and secrets we keep hidden there. This is alluded to when Rebecca tells Hildy that dreaming of houses doesn't mean dreaming of work, but rather of what's going on in her psyche.
From early on in the novel there's a sense that something bad is going to happen. It wasn't until the very end that it started becoming clear what that bad thing was. Anne Leary builds up the story and the tension slowly, but with great skill.
I am so happy and so surprised at how much I liked this book. It has a serious theme about alcoholism, but although Hildy is in denial, she is sympathetic, funny, strong, and I have to say I quite like her. A definite book to recommend as Christmas gifts, but make sure you read it yourself first!